Question " How do I extract songs that are on my iPod into my music library on my computer? "
Well, for this problem, we are going to use a software application which you should/would have if using an iPod, the good ol' iTunes. Below is a simple 4 step process in which we can accomplish our goal.
Step # 1: Convert your iPod to act as a drive on your computer
As soon as you plug in your iPod to your computer, the OS would recognize the external device and install the drivers needed for it. Now go to 'My Computer', and see if your iPod is being recognized as a disk drive. Your iPod should fall inline after any extra hardrives or Cd-Roms and should read 'Removable Disk'. If your iPod is showing up, great! You have completed step 1.
Step # 2: Enable 'View hidden files' on your iPod
This next step requires us to actually see what is on the iPod through windows explorer. Double click on your iPod icon.
Once it's opened, go to Tools > Folder Options and click the View tab. You'll see a bunch of different options for the way Windows displays files. In the Hidden files and folders section, select "Show hidden files and folders", then click OK. Then close that window. Now we are able to view hidden files.
It is a little bit different if you are using Windows Vista
First double click on your iPod icon in Windows Explorer. Then click on Organize ->Folder and Search Options. In there click on the View tab then enable the show the hidden files and folders option and click OK.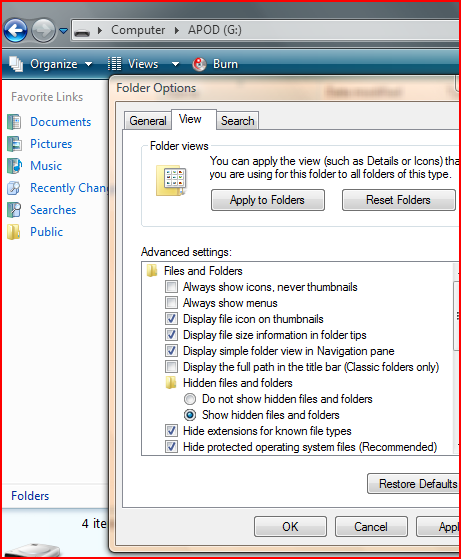 Step # 3: Enable your iTunes to view the hidden songs on your iPod
After you enabled the 'View hidden files' option, you will see a new greyed out folder in your iPod drive. The folder name is Ipod_Control. Once you enter this folder, you will see three hidden folders: Device, iTunes and Music. The Music folder is the one storing all the music on your iPod. However the files are also hidden and your iTunes can't see hidden files. So, right click on the Music Folder, and select properties. There should be a section that says attributes. Uncheck the hidden box and click apply. It will then ask you how you want to apply these changes. Select the "apply changes to selected subfolders and files" and click ok. Now your files should be visible for iTunes to see them.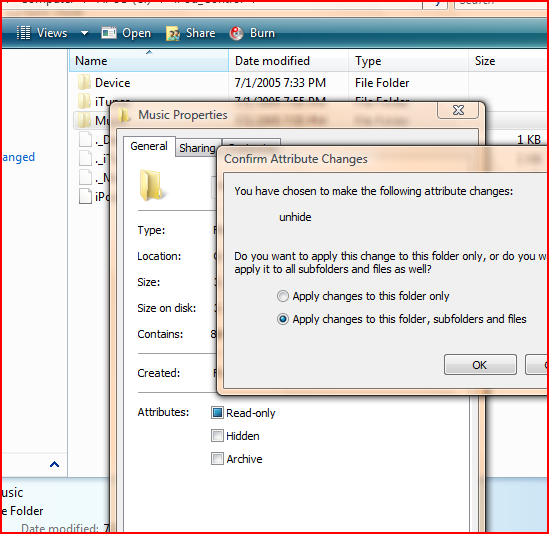 Step # 4: Import songs through iTunes
We are going to now import the songs through iTunes using the consolidate feature in iTunes.The consolidate option is under file tab in iTunes, then Librarywith a little arrow beside it. Move mouse over that and you should see the option to consolidate library. This will copy all you songs in your iTunes Library to My Music->iTunes->iTunes Music, so if you ever need to find any songs file from your iTunes Library you will go to My Music->iTunes->iTunes Music.
Before we do this, if you are using iTunes 7, make sure that your iPod is set to manually update. If not, click on Edit tab, and click preferences. Choose iPod and first tab, Music. On the third selection you can tell your iPod to manually update. Now we are ready.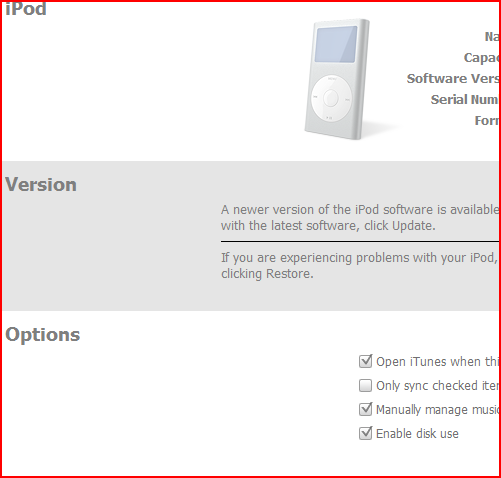 Next choose file from top menu, and add folder to library… Now browse to the iPod that is acting as a hard drive, click and open iPod control, and you should see a music folder now. When music is blue select ok, and watch all your songs from your iPod be imported into iTunes. Now that these files are in iTunes you see that the funny letters and numbers for each song do not show up anymore. Now we have our songs in the library and the actual song files are still on the iPod.
Note: If you were to disconnect your iPod the songs would not play in iTunes.
To copy all songs in your iTunes library to your computer we will use the consolidate feature, which will bring all songs from your iPod to your My music/iTunes/iTunes Music/ folder and sort the artists into folders nice and neat.
You are all set… congratulations!
Update from our user RS
By using the technique outlined in this article, if you copy the songs from your ipod to your itunes library you have to consolidate your library after. And this means you have to make a copy of your entire iTunes Library and most people have over 20gb of songs and they only want to copy the ones from their ipod.
To copy only the songs from your ipod.
After you checked off the box to see the hidden files in the Ipod_Control Properties. Go back to iTunes and click on Edit->Preferences->Advanced and check the box Copy files to iTunes Music folder when adding to library.
After this you can continue the steps above and click on File->Add Folder To Library->My Computer->Removable Drive (iPOD being regonized as a hard drive)->Ipod_Control->Music and then click OK.
The songs from your iPod will be in iTunes and the names of the songs will appear eventually. And you will be able to play the songs without your iPod plugged in.