Google's stock price has gone past $500 for the 1st time Tuesday, and their shares are up nearly 2 percent in today's morning trade. Today marks a new milestock for the search king and catapulted it into the corporate elite. The stock price can only go upwards as Google's core search and ad business only gets stronger every quarter and hundreds of investors want to own a piece of the company that has now become the Internet's most powerful financial force while at the same time keeping its 'do no evil' motto all along and building a brand that has now become so ingrained in society, that it has become part of the English language.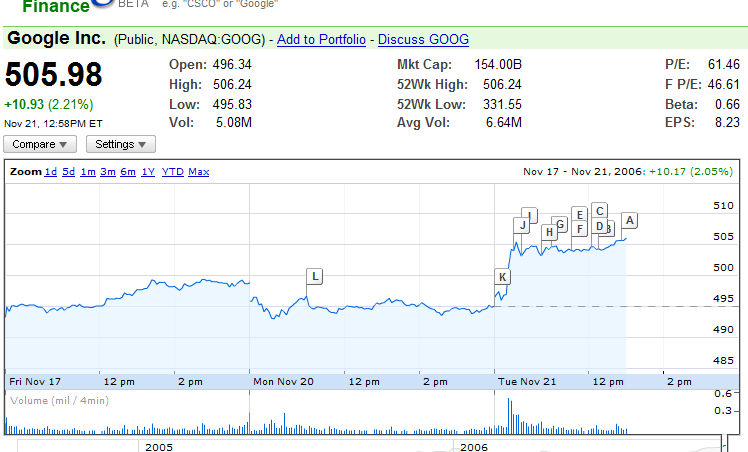 Continuing a recent surge driven by Wall Street's high expectations for the company, Google's shares rose $9.67, or nearly 2 percent, to $504.72 in morning trading on the Nasdaq Stock Market.
That left Google with a market value of about $154 billion just eight years after former Stanford University graduate students Larry Page and Sergey Brin started the business in a Silicon Valley garage.
The Mountain View-based company is now Silicon Valley's most valuable business, eclipsing the likes of Intel Corp., the world's largest computer chip maker, and Hewlett-Packard Co.
It took slightly more than a year for Google's shares to travel from $400 to $500 — the stock's longest journey from one major milestone to the next since the company priced its initial public offering at $85 in August 2004. The shares topped $100 on their first day of trading on the Nasdaq Stock Market, then crossed $200 in less than three months. The stock broke through $300 another seven months later in June 2005 and then breached $400 on Nov. 17 last year.
The latest spurt of optimism appeared to reflect a belief that Google will quickly introduce ways to mine more online advertising revenue from its just-completed $1.65 billion acquisition of YouTube Inc. Google used its stock to finance the deal.
Anyone waiting for a stock split before investing in Google risks being left on the sidelines. Although most publicly held companies regularly split their stock to create a lower per-share price that appeals to more Main Street investors, the proudly unconventional Page and Brin have repeatedly indicated they have no intention of resorting to that maneuver.
More information and links on why Google's share and and its ad sales are skyrocketing
1. Why Google's ad sales are skyrocketing on CNN Money
2. Google, $500 plus, is the new Cisco from marketwatch.com