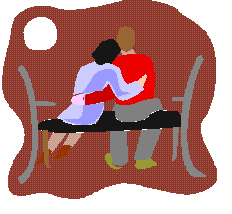 Are you and your mate looking for new and interesting ways to express your affection? Or maybe you and your significant other can't keep your hands off each other, but are waiting before you plunge into intercourse. It seems that more and more young people are putting penetration on hold and seeking other ways to make each other feel good — without actual intercourse.
There are many reasons young couples decide not to jump right into a full-on sexual relationship: AIDS, pregnancy, and sexually transmitted diseases are high on the list. And many couples just aren't ready. In fact, according to a recent Playboy survey, the number of virgins in high school and college is increasing. So what's a couple to do if they aren't having sex? Plenty!
Here are ten suggestions for spicing up your relationship without going all the way.
1. Work those fingers. Mutual masturbation is a great way to relieve those building sexual tensions and to get to know what gets your partner off. Touching sensitive genitalia can be as pleasurable as having sex, especially for women, who sometimes have a harder time reaching orgasm through intercourse.
"When my last girlfriend and I met, she was still a virgin," says Dirk Meeks, a recent graduate of UCLA. "She was kind of nervous about having sex, but loved it when I touched her down there. I wanted to be sensitive to what she wanted, so we really got into a groove, not going further than that for a while. But it was cool to be able to get her to have an orgasm without pushing her to have sex."
If your partner is a man, you can get into the action, by performing a handjob. Like a blowjob minus the mouth, men often appreciate a good handjob as much as other forms of sex.
"I love a good handjob," Meeks says. "For some reason the girls I've dated have sometimes been better with their hands than their mouths. So, it can be a real turn on."
2. Get greasy. Massage is a wonderful, relaxing way to explore your partner's body. There are plenty of hidden erogenous zones for you to discover, so start exploring. Be sure to pick up one of the many great smelling body massage lotions or oils to enhance the moment and make your skin nice and soft. It's sensual and therapeutic. What could be better?
3. Tub time. Taking a bubble bath together not only gets you clean, it can be the perfect way to spend an arousing evening. Don't forget the bubbles or bath beads. Fill up the tub, turn out the lights, burn some incense and light a few candles — it's that easy. For extra pleasure, use a washcloth and bath gel to get clean all over or wash each other's hair.
4. Lights, camera, action! The human body is beautiful, so why not capture your love's form on film — with their permission, of course. Taking sexy snapshots is the perfect reason to buy some special lingerie and can be quite an adventure. To avoid potential embarrassment, it's important to pick a night when you know your roommates and friends won't disturb you.
Begin by setting up a picturesque backdrop, like your bed, couch, or an oversized chair. Be sure there are lots of pillows and interesting props (feather boas, hats, stuffed animals, etc.) to make the pictures more interesting. It's important to be comfortable with what you are doing, so you might want to start fully clothed and take clothing items off as you get in the mood.
"It feels really naughty, but it is also romantic," says Nelly Castilo, a student at UCLA. "When my ex-boyfriend and I did it, it reminded me of that scene in Titanic."
But Castilo warns that there could be a downside to this activity. "You need to have a lot of trust before you should let [your significant other] take pictures of you," she says. "You don't want to end up plastered all over his dorm room or on the Internet." You also might not want to have the film developed at a local photo shop, so consider using a digital camera.
5. Touch thyself. Masturbating is usually a private activity, but performing the act in front of your partner can be very exciting. This might take some courage, but some couples seem to really enjoy watching each other get off sans assistance.
"When my girlfriend has her period she gets really horny," says Alex Christoper,* a recent graduate of the School of Visual Arts. "She doesn't like the idea of having sex during that time of the month, so sometimes she'll masturbate and let me watch. It's really sexy and she finds it rather empowering."
6. Wanna watch? Men are easily aroused by visual stimulation, which could explain the soaring sales of magazines like Maxim and Playboy. Couples can enjoy visual stimulation together and learn more about each other in the process. Pick up a skin mag or an X-rated movie and watch it together. You could both get turned on, and learn a few new things as well.
7. Cook up some romance. Many different kinds of food are known for their sensual side effects, and many are easy to find and prepare — even if you live in a dorm room. So forget plying him or her with booze and whip up an aphrodisiac-laden snack or meal. It's fun to cook together, especially when the food induces kisses. Try some pine nuts, strawberries, grapes, garlic, olives, onions, asparagus, seafood and, of course, chocolate.
8. Toys, toys, toys. Vibrators and other sex toys can bring an interesting element into the bedroom without the worry of intercourse. You don't even have to go into those creepy XXX-rated shops, which always seem to be located in the seediest part of town. There are plenty of Web sites that will send you all the playthings you need — discreetly packaged, of course.
9. Oral examination. Time tested-and-true, oral sex is a common pre-intercourse couples' pleasure of choice. But remember that oral sex can still transmit disease, so be sure to use protection.
10. Backseat of the Chevy. Now that you're on your own it may be easy to find places to be alone with your honey. But remember the good ol' days when sneaking kisses on a date usually took place in a car, at school, or in the protective darkness of the movie theater? Get back to that sweet simplicity and go on a date. Pack a picnic, head to a sappy romantic movie, or drive to the local Lover's Lane. They're all perfect for a surreptitious make-out session.