Down Underground: Coober Pedy residents take the moniker "Down Under" literally.
BY COURTNY SANDRA
ASKSTUDENT.COM guest author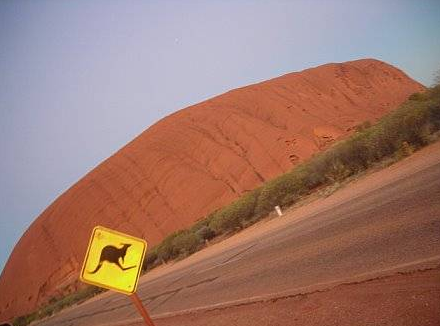 After hours of restless sleeping on a Greyhound bus that provided no leg room and miles of empty desert scenery, I arrived at 5:00 AM in Coober Pedy. It was cold, dark and crowded as the weary travelers piled their huge backpacks on the floor of Radeka's Downunder motel and made their way to the check-in counter. Even in the dark there was a sense that Coober Pedy, an opal mining town in South Australia, held a rugged element of danger and mystery.
Like half the homes in Coober Pedy, my hostel was built underground. For around $15 a night you can sleep in one of the four bunk beds lodged in a dugout cave with no doors and dim lighting. I enjoyed my bed despite the rock walls and constant chatter of foreign languages I could not decipher.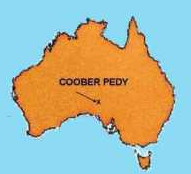 Living underground became popular when returning World War I soldiers came to Coober Pedy in search of opals. Used to living in trenches in France, the soldiers quickly discovered they could avoid hot desert days and cold nights by remaining underground where the temperature stays a constant 23 degrees Celsius.
For travelers who chose to stay underground at Radeka's, a daily Desert Breakaway Tour can be added on to your bill for an additional $15. The tour group is small, about ten people, and my bus driver recommended it as one of the better tours offered. Taking any tour is well worth the money as Coober Pedy is too spread out to walk and see all the sights.
Windy City: Eats and Sleeps
Things to do:
Mail run: An Outback adventure with the mailman. You can visit remote outposts while the mail is being delivered. Call (08) 8672 5558.
Martins Star Gazing: In the summer you travel with the Martins on a family-run tour 10 miles out of town into the desert for a fun and informational look at the stars. In the winter you sit around the campfire at their home and receive a complimentary glass of wine. Call (08)8672 5223.
Fayes Underground Home: Visit an underground home hand-dug by three women over 30 years ago.
The Old Timers Mine: A mine that was hand dug in 1918 and features a self-guided walk-through tour of displays on opal, as well as two underground homes. Call (08) 8672 5555.
Noodling and Mining: As long as they do not use a pick or shovel, everyone is free to look for their own opals, as long as they are not on a pegged claim or someone else's mining site.
Umoona Mine and Museum: Offers guided tours through an Aboriginal interpretive center, a real opal mine and a film about Coober Pedy. Free admission.
Coober Pedy Races (Oct. 2-4): A family event with horse and camel races and a dance at the Opal Inn Hotel on Saturday night.
The Breakaways: Lies 32 km north of Coober Pedy (Desert Breakaway Tours takes you there.) Low colorful hills that have broken away from the Stuart Range. There are two lookout points and plenty of walking trails. The Breakaways are featured in many advertisements, as well as "Mad Max Beyond Thunderdome."
Dog Fence: 2-meter-high fence that stretches across three states of Australia to protect the sheep country from the native dog, the Dingo. It is also situated near the "moon plain," which resembles the moon because of its soft gray clay dirt, fossilized shells and apparently-bottomless crevasses.
Do your own 4WD: Rent a 4WD vehicle from Budget and tour Coober for around $35 a day. Call (08) 8672 5333.
The Coober Pedy tourism number is (08) 8672 5298.
After waiting 30 minutes for the one shower in the unisex bathroom, I soon met the hot desert sun. The sun reflected off miles of orange sand, and the day was blindingly bright.
There was not a tree or shrub in sight. Only at the top of a cliff stood an iron structure resembling a tree. One resident had built the pseudo-tree out of recycled truck parts for his children to climb.
The area receives five inches of rain a year, and only the richest residents can afford to own a garden. Visitors can buy 30 liters of water for 20 Australian cents at a coin-operated water dispenser on the town's main road.
The 3,500 residents didn't seem to mind this lack of water, but then again the people of Coober Pedy are in a league of their own. My tour guide talked excitedly about the upcoming golf tournament pointing our a dirt course that contained no green. Golfers had to carry around a small patch of green to tee off from.
Coober Pedy hasn't always been a desert amongst Australia's Stuart Ranges. In fact, it was covered in water 150 million years ago. As the sea water receded silica solutions were carried into the soil creating a multi-million dollar supply of opals. The city alone produces 85% of the world's opals.
One man, Crocodile Harry, capitalized on both the opal and the strange terrain. Harry, a real live Crocodile Dundee, invites tourists into his underground home for 2 dollars.
Artwork covers every inch of his cave-like rooms. Sculptures of naked women line the home's entrance, women's underwear hangs from the ceiling (gifts from tourists), and obscure doll parts stick out from the plastered walls.
Harry, now gray and retired, cooks bacon in a frying pan and tries to sell postcards portraying his younger years when he wrestled eight foot crocodiles.
His wife lives in an underground home across the dirt road because she has grown tired of Harry's excessive drinking and flirtatious attempts with female tourists.
Harry's home is connected to a series of mining caves. The rumor around town is Harry has found up to 72 million dollars worth of opals, but one couldn't guess looking around his front yard that resembles an artist's vision of a junkyard.
Harry's caves were also the filming site for "Mad Max Beyond Thunderdome." He points a long finger to the shaft that Mel Gibson climbed out of in one scene.
Coober Pedy also contains underground churches, bookstores, and hotels. The Aborigines refer to the town as "kupa piti," which translates into "white man in a hole."
While I didn't go into a mining shaft, I did spend my afternoon noodling. Opal miners use large funnel-shaped machinery, called noodling machines, to sift through the soil for opals. The noodling machine spits out the sifted soil creating small hills of soil. Some residents, noodlers, spend their days going through these soil hills in hopes of finding opals that the noodling machines overlooked.
An hour passed and I uncovered a small green rock. My tour guide quickly squashed all dreams of becoming rich when she said the rock wasn't even worth a dollar. I pocketed it as a souvenir and tried to dust off the pound of white dust encrusted on my jeans.
For dinner I chose from an array of ethnic foods as there are more than 45 nationalities represented in the small town. College students need not worry about shoveling out big bucks for dinner as the majority of restaurants offer reasonable prices, meals for under $10, and a laid-back atmosphere.
After walking by the sweet aroma of gyros, pasta and even fried rice, I settled on the good old English feast of battered fish and chips at the Opal Run restaurant. The restaurant had a cafeteria feel to it and all the diners seemed to have known each other for years. While the ambience was lacking, for six dollars I could not have asked for a more satisfying dinner.
With my stomach full and my pockets bulging with worthless rocks collected from the noodling adventure I headed underground for a good night's sleep.
Images courtesy: