Spending a semester abroad can be cheaper than staying on campus, but some schools are working to change that.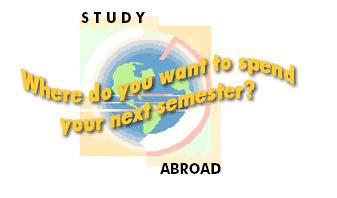 When Laura Bem decided to spend a semester in Prague, she was excited by the opportunity to learn more about a historic city and a different culture. But she was also drawn to the price tag: $8,000 through the Council of International Education Exchange, about $7,000 less than a semester on campus at Brown University.
The savings meant Bem could travel through Europe without pinching pennies, go out often and have a good time. With a strong dollar and reasonable airfares, students who head to countries with a low cost of living or that offer government-subsidized tuition can save a bundle over staying at home.
But that's changing. While schools like Brown let students arrange trips through approved agencies and pay a processing fee, others charge students studying abroad the on-campus rate for tuition, regardless of the program's cost.
For a semester in Prague, Brem paid the $8,000 program cost plus Brown's $1,350 study abroad fee. But students from Pomona College, the University of Pennsylvania and Wesleyan University who accompanied her paid their schools full tuition for the same experience.
According to a Penn survey, 83 percent of schools let students choose the program they want to enroll in. Since the price tag varies by program and by country, students looking for a bargain can usually find one.
"I don't know why the word doesn't get out more that people can save money when they study abroad," said Joe Hoff, the assistant director of Brown's Office of International Programs. "It's a great opportunity … economically" for the 30 percent of students who study abroad, he said.
But if students aren't getting word of potential savings, many colleges are and they're doing something about it.
Washington University in St. Louis and Duke University let students choose less expensive programs. But like several schools surveyed, they're considering charging one tuition fee no matter where a student attends class.
"A lot of programs are going to go to that," said Michele Shoresman, director of overseas programs at Washington University. "It would give us more leverage to develop and staff programs," she added, particularly in countries where long-term study is too expensive for most students to afford.
It would also simplify administrative issues. Washington University's 40 study-abroad programs have 40 different price tags, some of which exceed a semester's tuition. "The costs are different for different places," Shoresman said.
Geoffrey Gee, the associate director at Penn's Office of International Programs, said the school , a leader in equalizing tuition between on and off-campus programs consistently winds up with leftover cash from the foreign study office. That money goes back into the university budget.
In addition to charging the regular $9,985 fee for one semester's tuition, Penn also bills students a $930 study-abroad fee. That's what a semester's credit at Penn costs, administrators said.
"Students at the University of Pennsylvania are not looking for a bargain," Gee added.
Penn grants academic credit only for Penn programs the $10,000 kind. "We have income requirements," Gee said. "Private universities tend to deal with it as a sense of budgeting. They figure that a certain amount of money will come to a university and if a student were to opt out it's not meeting the budget expenditures."
Other schools, including Brown, offer their own programs that cost one semester's tuition, but also accept credits from other programs that cost significantly less. Brown-sponsored programs cost $11,808 a semester's tuition while non-university programs vary in price. For example, studying in Costa Rica can cost $4,000 a semester while studying in Japan can run $12,000 or more.
For students who pay the full tuition price, the school tries to give students their money's worth, Huff said. When Brown senior Jack Chiueh went to China, where the living expenses are cheaper than in the U.S., he found the school had paid for his housing and books in addition to his tuition.
"The costs balance each other out," Huff said.
At state schools, where tuition is generally less expensive, many students take part in reciprocal exchange programs. The student pays a semester's tuition at his or her own school for a foreigner to take their spot; meanwhile, they take the foreigner's prepaid spot at a university abroad, according to Nana Reinhart, associate director of the International Student Exchange program, which facilitates 100 exchange programs in 35 countries.
Some students who have spent time abroad don't like the one-credit, one-cost idea.
"It doesn't make much sense," said Laurie Casey, a senior at Washington University who spent a semester in Tolouse, France. "The cost of living in France is much more expensive. Schools should charge what students would spend. It's not right to make it all one price. If a program costs more, you get more. You get a nicer life in Paris than in Guatemala."
"I'd have to pay more money for a product I know is worth half of that," Bem said. "It's not fair. Prague is considerably less expensive than Paris. Program costs should reflect that discrepancy and a flat cost doesn't."
Image courtesy Albright Career center